The Princess Grace Hospital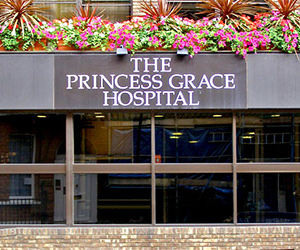 This is a prestigious medical establishment which is close to Harley Street and has an international reputation for treatment and care. It caters to both UK and overseas patients with the number of UK patients continuing to rise.
Top quality facilities
The Princess Grace hospital is known for its superb range of facilities which are designed to maximise patient comfort and ease. They include a Level 3 intensive care unit, 8 operating theatres, and private rooms with en-suite bathrooms, 24 hour consultant cover, satellite TV and a 5 star menu.
Every patient is treated as an individual and can access care at any time of the day or night. The nursing staff are dedicated to providing top quality care which ensures that every patient has a pleasant experience. All of which takes place in comfortable surroundings.
Medical and surgical services
The hospital provides a wide range of medical and surgical services which include:
Breast care
Imaging (diagnostics)
Endoscopy
Infection control
Nutrition
Liver surgery
Lithotripter centre (urology)
Oncology
Outpatients
Psychiatry
Sleep studies
Surgical
A well-equipped intensive care unit is available on a 24 hour basis which is staffed by consultants and other specialists. Additional support is provided by specialist nurses before and after treatment.