Breast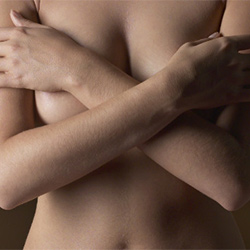 The most common breast complaint in women (and a few men) is breast cancer which is treated at The Harley Street Breast Clinic. This clinic offers a first rate screening, diagnosis and treatment programme for breast cancer which is amongst the very best in the UK and overseas.
This is a specialist, exclusive service which is handled by leading breast specialists, surgeons and other related professionals. They are experts in their own field and use this knowledge and experience for their patients' benefit.
Other breast problems include:
Breast cysts
Breast lumps
Inverted nipples
Discharge from the nipple
Breast pain
Breast infection
These account for a large number of breast problems and are relatively benign. But do not ignore any of these. Visit your GP if you notice a lump in your breast or armpit in order to rule out cancer.
Risk factors for breast cancer
It is difficult to pinpoint a single cause of breast cancer. There are risk factors which we are unable to change, for example, genetics or age. But then there are others which can be dealt with or avoided.
There are two genes which are markers for breast cancer. These are the BRCA1 and BRCA2 genes which increase the risk of breast and ovarian cancer. Any woman whose mother or sister has suffered from breast cancer may have inherited those genes and is advised to undergo breast screening.
The risk of breast cancer increases with age especially after the menopause.
Other risk factors include:
Overweight/obese
High oestrogen levels
Alcohol consumption
Tall in height
Breast density
Hormone replacement therapy (HRT) is cited as another risk factor although this is considered to be very small.
Treatment for breast cancer and other conditions
Breast cancer is treated with a multidisciplinary approach: this means a highly experienced team of oncologists, radiologists, surgeons and cytopathologists. This team will devise an individual treatment plan which is exclusive to your needs and with the aim of achieving the very best results for you.
A multidisciplinary treatment plan includes:
Detailed consultation and examination
Mammogram
Ultrasound
Biopsy
Surgery
Chemotherapy
Radiotherapy
Reconstructive surgery
They also offer a breast cancer gene testing service: this is for anyone who suspects they have inherited the breast cancer genes or has a close family member who has suffered from this disease.