The Portland Hospital for Women and Children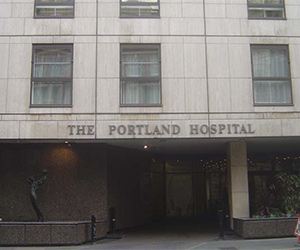 This is a specialised type of private hospital which is world renowned for its high standard of treatment and care in women and children. The Portland Hospital boasts an impressive set of facilities and a range of services which are second to none.
It's obstetric and paediatric facilities are housed under the same roof and include a specialist high dependency unit, neonatal care unit, special care baby unit and an obstetrics theatre (for emergencies). These facilities meet rigid guidelines of hygiene and cleanliness and infection control.
Top quality, professional staff
This hospital is staffed by consultants, gynaecologists, obstetricians and paediatricians who are chosen for their skills, expertise and reputations. Many of these are leading figures in their field and constantly strive to provide the highest levels of care.
They are well supported by resident medical officers, physiotherapists, audiologists and specialist nursing staff who are committed to providing a first rate level of care. This means a high nurse to patient ratio which is tailored to individual needs.
All of these staff have skills and experience in emergency situations which includes life support skills for babies and children.
High quality obstetric and paediatric services
The Portland hospital offers the following services:
Maternity
Private births
Gynaecology
Cosmetic surgery
Fertility
Children's care, e.g. hernia clinic
Pharmacy
Hand and wrist centre
These services are offered to both in-patients and outpatients and in a friendly, welcoming manner which ensures that the patient's stay is smooth and stress free as possible.