Foot and ankle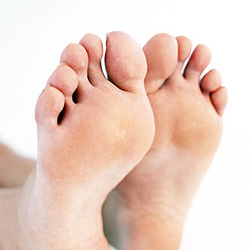 Foot and ankle disorders are dealt with by our prestigious orthopaedic clinic and to the highest standards. Leading specialists and surgeons provide first rate treatment which makes full use of their skills and expertise in this orthopaedic sub-speciality.
They use the latest techniques, e.g. minimally invasive surgery and innovations in this field to ensure that you receive the very best treatment. This is accompanied by 5 star care and attention which is designed for your comfort and relaxation.
Our 5 star service starts with the initial consultation and discussion of your condition where you will be presented with a range of options. All aspects of your treatment will be fully explained and help and advice offered where necessary. Feel free to ask questions during this meeting and at any stage of your treatment.
Your welfare is our main concern and this is placed at the centre of what we do.
Types of foot and ankle conditions
The most common types of foot and ankle conditions treated at Harley Street are:
Corns
Bunions
In-growing toenail
Ruptured Achilles tendon
Plantar fasciitis
Osteoarthritis
This also includes foot and ankle surgery due to an accident or injury: tendon or ligament damage: deformed toes: arthritis.
Treatment for foot and ankle conditions
Non-surgical options such as physiotherapy or corticosteroid injections can help but only in the short term. Surgery is the preferred option and a very effective form of treatment.
Typical surgical procedures include:
Arthroscopic debridement (removal of loose cartilage and inflamed tissue from the ankle joint).
Ankle fusion (joining together of two sides of the ankle joint)
Ankle replacement
Complete foot reconstruction
Correction of a deformity caused by a bunion
Correction of a claw toe
Increase movement in hallux rigidus (stiff) big toe
Surgery ranges from mild, corrective procedures through to total foot or ankle reconstruction work.
The treatment process starts with the completion of a set of registration forms followed by a consultation. This meeting will involve questions about your condition and medical history followed by an examination of your foot or ankle.
You may undergo a series of diagnostic tests, delivered by highly experienced staff using the latest equipment and techniques. This takes place in state of the art facilities.
If surgery is recommended then this will be arranged for you.