Orthodontist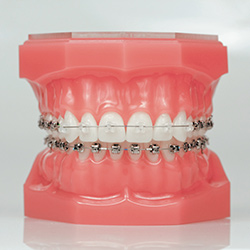 Orthodontics is a branch of dentistry that treats crooked or misaligned teeth and jaw irregularities, e.g. a 'bad bite'. The technical name for a dentist who treats these conditions is an orthodontist.
Crooked or badly aligned teeth affect the way the jaws fit together, resulting in a state called malocclusion. The jaws do not fit together when the patient closes their mouth which impacts on the way they speak as well as chewing or biting food. Misaligned teeth are caused by thumb sucking, accident, injury or genetics.
Our highly experienced and qualified orthodontists are leading experts in their field and use this knowledge and understanding for the benefit of their patients. They are supported by an effective and welcoming dental team who work hard to ensure that patients are put at their ease.
Orthodontic treatment
Orthodontic problems are treated with a brace. A brace is an artificial device which is worn in the mouth to straighten crooked or badly aligned teeth.
There are four different types of braces which are:
Functional braces
Fixed braces
Removable braces
Headgear
The orthodontist will advise you about the most suitable type of brace for your condition. Examples of braces include Invisalign, Damon, Incognito and Inman Aligners.
Brace technology has advanced from the traditional 'train track' brace to the newer and aesthetic looking invisible braces such as Invisalign. These are made from a lightweight, transparent plastic and are easy to wear and clean.
Our orthodontists will work closely with you to find a brace which is effective, comfortable and appealing.