Sleep disorders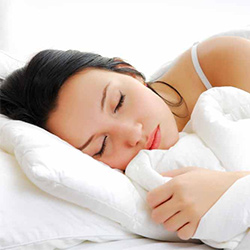 The importance of a good night's sleep cannot be underestimated but many people experience problems with sleep at some point in their lives. Insomnia is a common complaint but there other less well known conditions such as sleep apnoea and narcolepsy which can be equally miserable.
Sleep problems occur due to physical or psychological reasons which include stress, jet lag, certain medical conditions, e.g. asthma, excess alcohol and caffeine.
In many cases, sleep condition can be treated by your GP but serious cases require further investigation at a specialist sleep clinic.
Specialist sleep clinic
The clinic will monitor your sleep patterns over a set period of time. This will arranged during the day or night, or both. The session is conducted in a comfortable bedroom type surrounding where you will be quickly put at your ease.
Your physical and psychological state will be observed and recorded during the session. Small sensors are attached to your face and chest to record your breathing: a small clip is attached to your finger to record oxygen levels during the study.
This data is sent to a computer. The results will be collated and reviewed by a team of sleep specialists. They will discuss the findings with you and recommend a suitable course of treatment.