Physiotherapy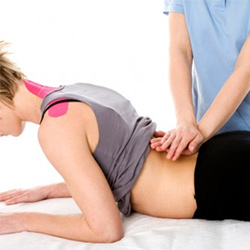 Physiotherapy is a commonly used form of treatment for sports injuries, disability or the effects of an accident. It can also help in cases of heart disease or stroke. It uses physical massage and manipulation along with various devices, for example, ultrasound to restore normal function to an injured part of the body.
Physiotherapy is available on the NHS but many people are unwilling to wait, particularly athletes and other sportspeople who need to return to their activity as soon as possible. This is where a private clinic can help.
Our clinic is staffed by highly qualified, experienced physiotherapists who use the latest forms of treatment and therapies to your benefit. They keep up to date with the latest developments in this field and use this to ensure that you are back on your feet and raring to go.
Physiotherapy treatment
Our physiotherapy clinic treats a wide range of injuries which include lower back and hip pain, knee trauma, shin pain, ankle and foot problems and neck pain. This treatment takes the form of massage and taping, exercises, laser therapy and hydrotherapy.
We don't just treat injuries: we also ergonomics screenings which assess the set-up of workstations and advise on ways of improving these. This reduces the risk of repetitive strain injuries, poor posture and back pain.
Athletes and sportspeople are equally well catered for. Our clinic offers advice and support regarding the prevention injuries as well as a personal training service. If you are a runner for example, we offer a comprehensive package which includes gait analysis, sports massage and podiatry.
We adopt a long term approach to physiotherapy treatment; in that we not only deal with the problem at the time but also recommend a series of exercises to correct any postural alignment and prevent a re-occurrence of the problem.