Screening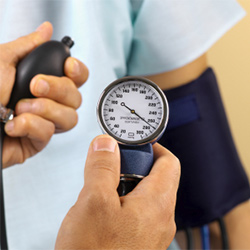 Screening is a term used to describe a range of diagnostic tests which are used to investigate a disease, illness or injury. At Harley Street we use only the very latest diagnostic tools and up to the minute techniques for the benefit of our patients.
We conduct screening for both diagnostic and preventative reasons. In the latter case, screening is carried out as part of a disease prevention campaign. One example of this is workplace screening programmes for employees.
Our screening programmes are performed by a team of highly trained, experienced healthcare professionals such as physiologists, nutritionists, cardiologists and nursing staff.
Many of our patients view screening as a medical check-up or 'Health MOT'. This is something which they undergo on a regular basis to maintain a good state of health. Screening helps to identify any potential problems that can be treated at a very early stage which reduces time and saves money in the long term.
Types of screening services
We offer a wide range of screening services which detect potential risk factors for an illness or disease. These are used by our patients to help them make healthy lifestyle choices.
These services are:
Well woman
Well man
Corporate screening (for employees)
Pre-employment screening (for prospective employees)
Health MOT
Health screening
This session evaluates your current health, highlighting any risk factors or areas which need to be improved. It takes the form of a regular medical check-up in which you undergo a physical examination and various tests to determine your health and physical condition.
This session provides you with up to date information about well (or not) your body is working and if any changes need making to your current lifestyle.
Health screening is carried out on both men and women: both sexes undergo a battery of tests that are standard practice in many clinics and hospitals. These include blood and urine tests, blood pressure test, thyroid function test, allergy testing, fitness testing (treadmill) and nutritional assessment.
These include gender specific tests as well which are:
Men
Prostate blood profile
Testicular ultrasound
Women
Mammography
Cervical smear
For many people, a health screening test forms part of an overall lifestyle plan. They eat sensibly, take regular exercise and minimise their stress levels to achieve an optimum state of wellbeing. A medical check-up is an 'end of year' review of that plan, providing an overall assessment of their health and overall state of fitness.